NAM JUNE PAIK:
THE FUTURE IS NOW
"The Yellow peril! C'est moi."
1963–1964
"The Yellow peril! C'est moi."
1963–1964
"The Yellow peril! C'est moi."
1963–1964
"The Yellow peril! C'est moi."
1963–1964
"The Yellow peril! C'est moi."
1963–1964
"The Yellow peril! C'est moi."
1963–1964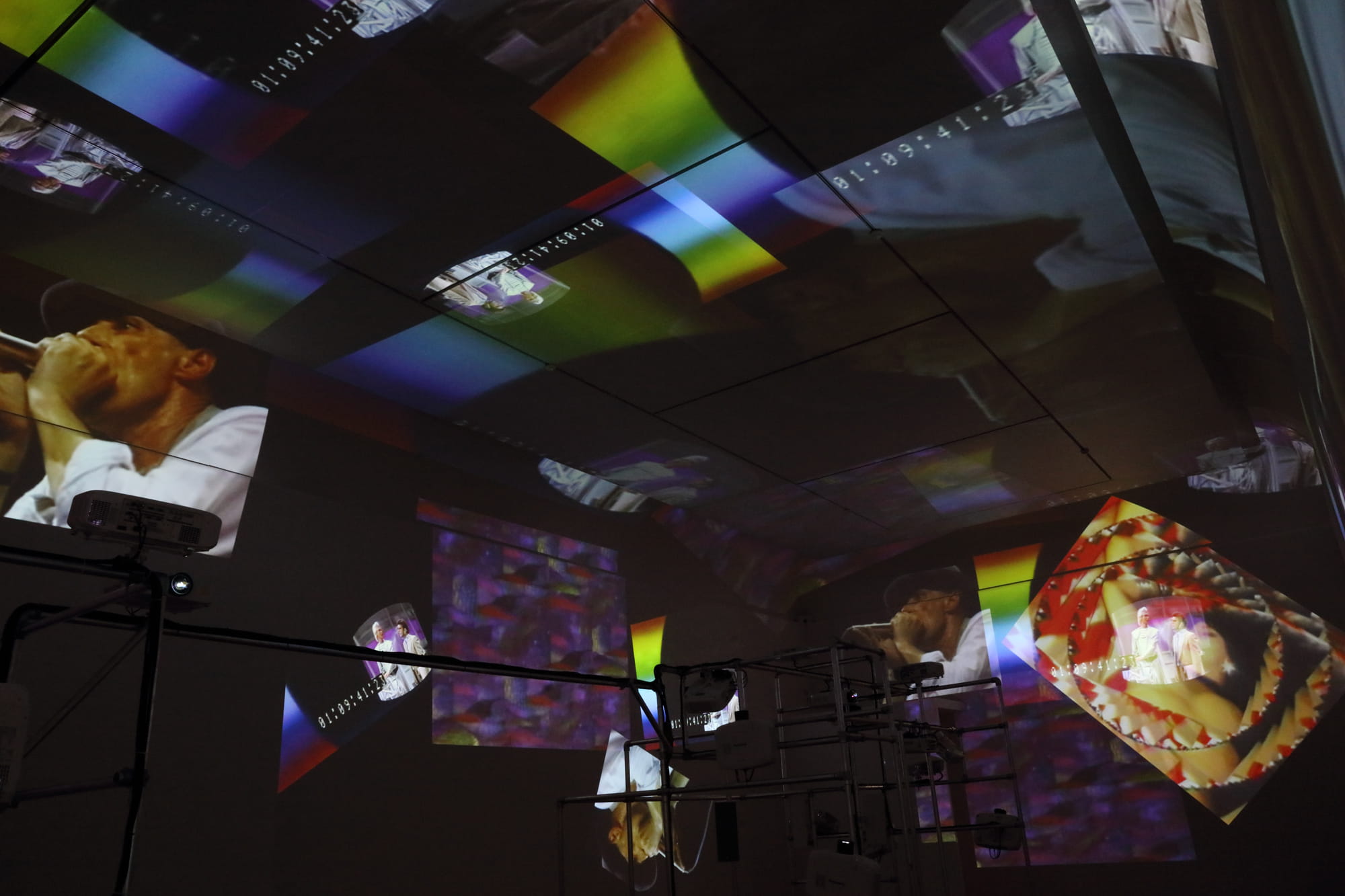 Dates
10.12.2021–27.03.2022
All Days
Venue
City Hall Wing, Level 3, Singtel Special Exhibition Gallery
Playful, electrifying and thought-provoking, Nam June Paik: The Future Is Now invites audiences to reflect upon their relationship with technology, and its intersection with other disciplines such as nature, music and religion.
The first major retrospective of Nam June Paik in Southeast Asia, this exhibition surveys over five decades of his pioneering work in the use of television and video in art.
Born in present-day South Korea in 1932, Paik was a key figure in the avant-garde movements of the 20th century and one of the first international superstars in the art world. He is credited with coining the term "electronic superhighway," which foretold transformations in the way people would communicate in the networked age of the internet.
Discover the expansive range of Paik's work through 180 installations, projections, modified televisions, video sculptures, robots and other inventive contraptions, as well as archival materials relating to Paik's training in music and participation in movements such as Fluxus. This international exhibition has travelled to London's Tate, Amsterdam's Stedelijk Museum and San Francisco's Museum of Modern Art—making its last stop here at National Gallery Singapore.
Book your tickets now before it ends on 27 March 2022. For info on ticketing, admissions and more, visit namjunepaik.sg.
EXHIBITION ACKNOWLEDGEMENTS
This exhibition is organised by Tate Modern, London and San Francisco Museum of Modern Art in collaboration with National Gallery Singapore.

Curated by Sook-Kyung Lee (Senior Research Curator, Tate) and Rudolf Frieling (Curator of Media Arts, San Francisco Museum of Modern Art) in collaboration with curators from National Gallery Singapore, June Yap (Senior Curator), Clarissa Chikiamco (Curator), Jennifer K. Y. Lam (Assistant Curator) and Roy Ng (Curatorial Assistant).

National Gallery Singapore wishes to thank the following individuals and organisations, including those who do not wish to be named, for their warm support of this exhibition.
Estates and Lenders
Klaus Barisch

René Block and Gunther Gude
John Chia and Cheryl Loh
Ken Hakuta
Wulf Herzogenrath
Jon Huffman
Marc Leve
Manfred Montwé
Pierre Lorinet
Manon Lu-Winter and Michael Krupica
Dieter and Si Rosenkranz
Peter Wenzel
 
Archiv Bauermeister
Archiv Sohm, Staatsgalerie Stuttgart
Arter, Istanbul
Art Gallery of New South Wales
ARTIST ROOMS–Tate and National Galleries of Scotland
Artists Rights Society
bpk-Bildagentur
Centre Georges Pompidou
Crystal Bridges Museum of American Art
Electronic Arts Intermix
Estate of Manfred Leve
Estate of Nam June Paik
Kaldor Public Art Projects
Keio University Art Center
Korean Folk Village
Kunsthalle Bremen
Kunstsammlung Nordrhein-Westfalen, Dusseldorf
Museum für Moderne Kunst, Frankfurt am Main
Museum Wiesbaden
Paula Cooper Gallery
Society of Artist's Copyright of Korea, Seoul
San Francisco Museum of Modern Art
San Francisco Museum of Modern Art Library and Archives
Solomon R. Guggenheim Museum
Stedelijk Museum Amsterdam
Stiftung Wilhelm Lehmbruck Museum
Tate Library and Archive
Tate Modern
Ulsan Art Museum
VG Bild-Kunst, Bonn
WGBH-TV Boston
Whitney Museum of American Art
ZKM | Center for Art and Media Karlsruhe
Curators
June Yap
Clarissa Chikiamco
Jennifer K. Y. Lam
Roy Ng
Artwork & Exhibition Management
Anasthasia Andika
Johnny Chen
Hafiz Bin Osman
Yvette Lai
Muhamad Wafa
Lynn Poh
Suhirman Sulaiman
Teo Yen Sy
Karen Yap Xiao Zhen
Kelvin Yue
and all our colleagues at the Heritage Conservation Centre
Exhibition Lighting
Maarof Zulkifli
Mohammad Azmi
Rizuan Ooman
Roy Xu
Khairul Hilmi Bin Jumaat (special assistance for AV installations)
Exhibition Design & Fabrication
AE Models Team Pte Ltd
FARM
Community & Access
Mark Chia
Koh Yishi
Tan Heng Yeng
Alicia Teng
Jessica Yeo
and all Best Friends of the Gallery volunteers
Curatorial Programmes
Tamares Goh
Erica Lai
Lee E Shyen
Education
Hu Qiren
Kng Mian Tze
Soh Ling Hui
Marketing & Communications
Choo Chin Nian
Gwen Thiam
Lovelynn Chong
Kerrie Wee
Programmes
Vanini Belarmino 
Maria Khoo Joseph 
Nathaniel Mah 
Nurdiana Rahmat 
Colinn Shae
Publications & Content Development
Patricia Lee
Genevieve Ng
Wong Jia Min
Website & Design Development
  
and the entire team at National Gallery Singapore