NAM JUNE PAIK:
THE FUTURE IS NOW
"The Yellow peril! C'est moi."
1963–1964
"The Yellow peril! C'est moi."
1963–1964
"The Yellow peril! C'est moi."
1963–1964
"The Yellow peril! C'est moi."
1963–1964
"The Yellow peril! C'est moi."
1963–1964
"The Yellow peril! C'est moi."
1963–1964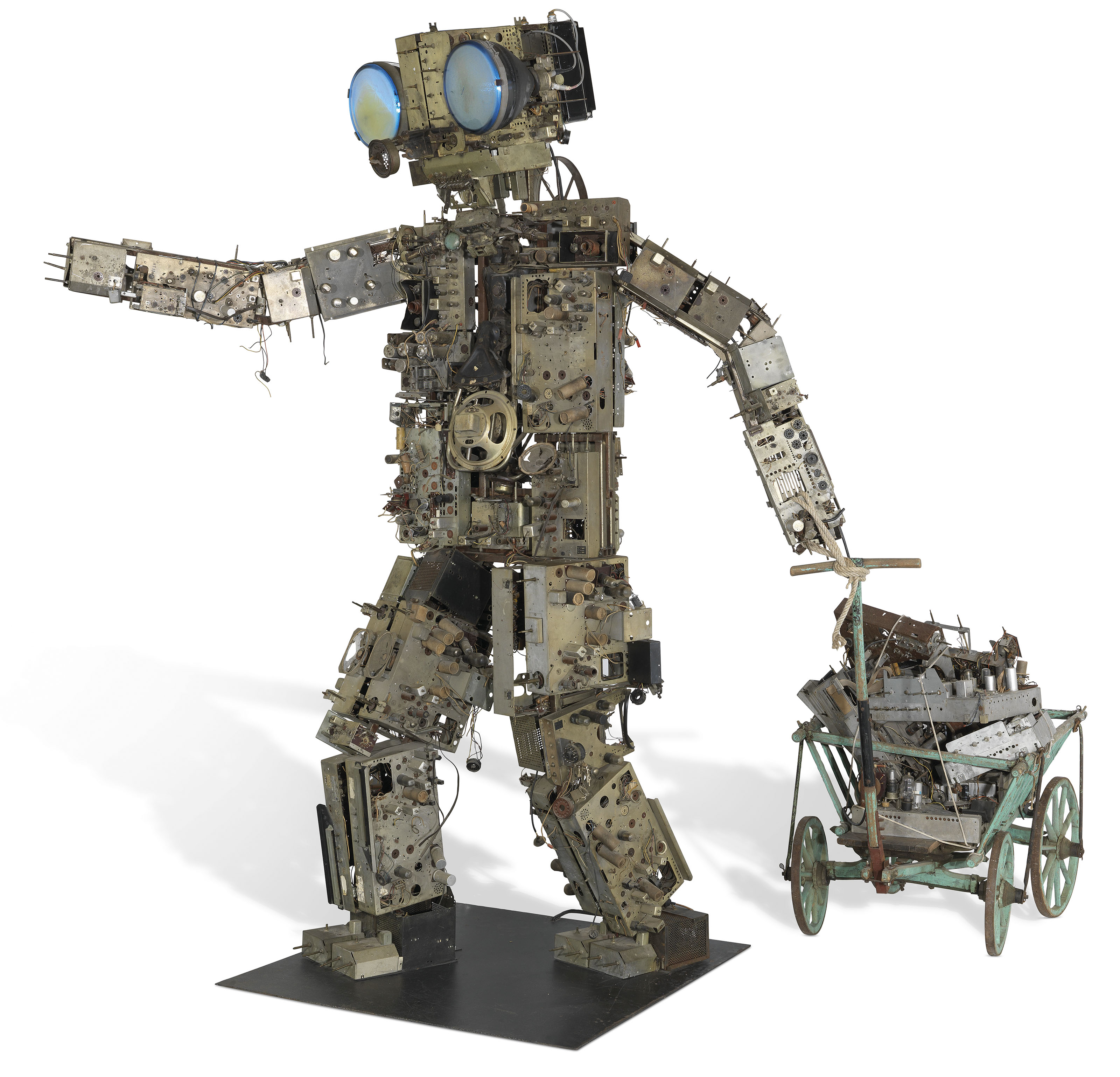 Anonymous Crimean Tatar who Saved Life of Joseph Beuys—Not yet Thanked by German Folks
Medium
Found electrical parts, metal, headlights, rope and wooden cart
85 x 80 x 70 cm (head), 250 x 95 x 130 cm (torso), 127 x 123 x 181 cm (legs),  150 x 100 x 130 cm (cart)
Credits
Collection of John Chia and Cheryl Loh
Image © 2019 Christie's Images Limited
Anonymous Crimean Tatar who saved Life of Joseph Beuys—Not yet thanked by German Folks was first presented at Paik's exhibition Electronic Super Highway 'Venice → Ulan Bator,' held in the German Pavilion at the 1993 Venice Biennale. The robot-like sculpture has a body composed of first-generation electrical equipment and a defunct Sankyo motorbike, with its face illuminated by the glow of two circular lights. This work was originally displayed outdoors, set amongst the trees surrounding the German Pavilion.
The title refers to Paik's friend and regular collaborator, German artist Joseph Beuys. During World War II, Beuys was stationed in the Crimea as part of a combat bomber unit. While on service, his plane crashed on the Crimean Front. Beuys claimed that he was saved by nomadic Tatar tribesmen, who swaddled him in layers of fat and felt to keep him warm. Although the story was not proven to be true it remained central to Beuys' personal mythology and was a source of inspiration throughout his artistic career.
Paik and Beuys maintained a strong working and personal friendship throughout their careers. They shared numerous interests and experiences, including their fascination with similar motifs such as the moon, rabbits and shamanistic symbols, the division of their respective home countries due to the Cold War and their aspiration to bring together the East and the West, man and nature, and the scientific and the spiritual in their work.