NAM JUNE PAIK:
THE FUTURE IS NOW
"The Yellow peril! C'est moi."
1963–1964
"The Yellow peril! C'est moi."
1963–1964
"The Yellow peril! C'est moi."
1963–1964
"The Yellow peril! C'est moi."
1963–1964
"The Yellow peril! C'est moi."
1963–1964
"The Yellow peril! C'est moi."
1963–1964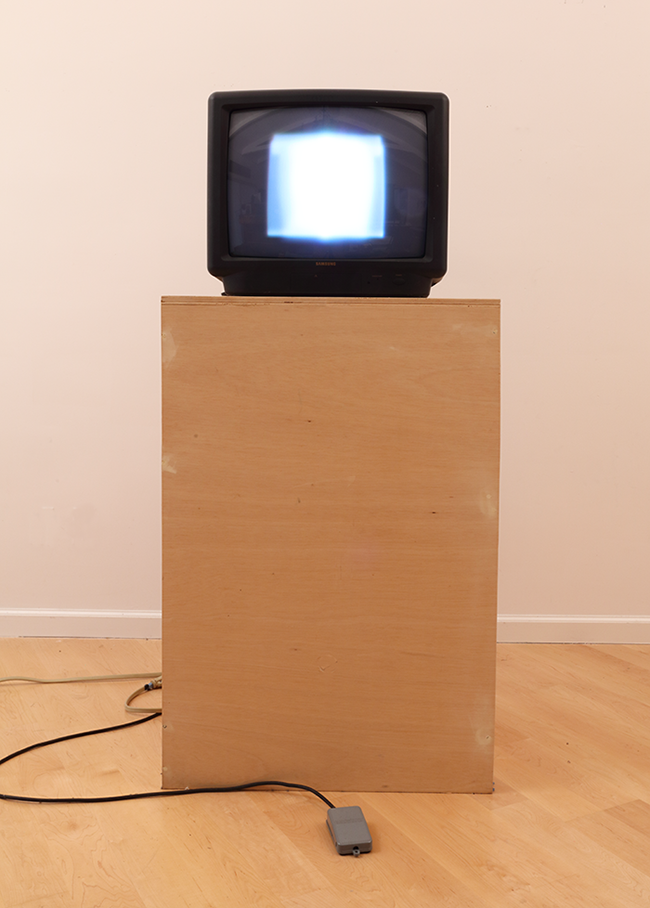 Dating
1963, reconstructed 1995
Medium
Modified cathode-ray tube television and foot switch
36.8 x 42.2 x 42.2 cm
Credits
Collection of the Estate of Nam June Paik
Paik has acknowledged the influence of German painter Karl Otto Götz, a trailblazer of electronic art, who inspired him to experiment with TVs as a visual medium. In this interactive piece, the foot switch turns the cathode-ray tube of the television off and on again, while generating a fading square of light.
Foot Switch Experiment was first exhibited in a room with 12 or 13 TVs turned into artworks, many of which were interactive, scattered all over the floor. At that time in Germany there were only two TV channels, one of which only aired in the evening. To have a room full of TVs all showing different images and demonstrating different functions provided far more variety and freedom than the average TV experience. 
If you view this work at the Gallery, you can press the foot switch once to activate the work or ask our Gallery hosts nearby for assistance.